Growing Your Business Through Podcasting Takes Effort.
You Deserve The Fame and Fortune That Comes With It!
A message from: Adam Hommey
Dear Fellow Podcaster,
Whether you're a podcast host or podcast guest (or both), you got into podcasting because somewhere along the way… you realized for your own sound reasons, in alignment with your own truth, it was the right thing to do.
Now you're asking, how do you make real money doing it?
How do you get more leads, more clients, more referrals, more media attention, more sponsors, and more speaking and guesting opportunities?
How do you use podcasting to create new growth opportunities for yourself – and how do you transform these opportunities into more revenues and more profits?
I get these questions every day.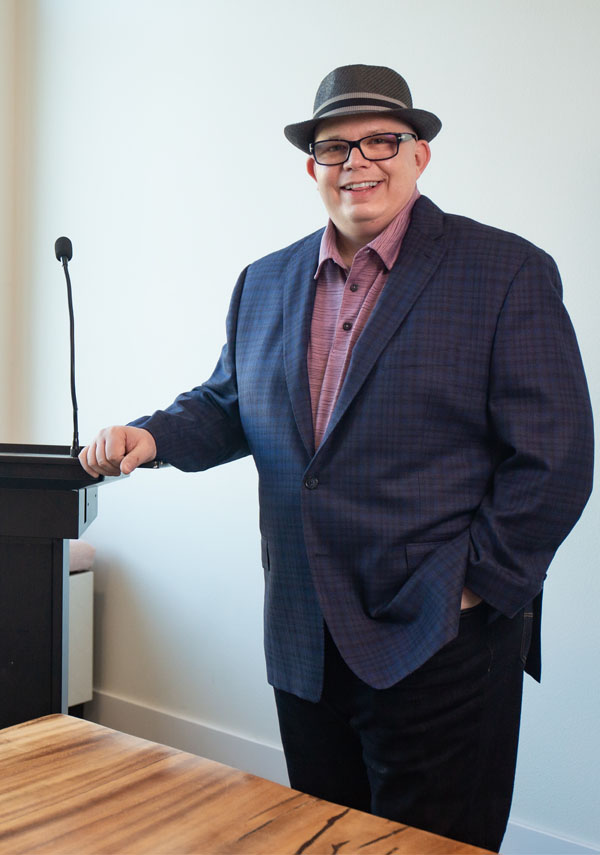 Podcasting Is The Bridge That Removes Degrees Of Separation Between You And Your Best Prospects.
Can You Afford To Go It Alone?
Or Keep Fumbling Your Way Through?
According to The Infinite Dial® Study compiled by Edison Research and Triton Digital®:
78% of the United States population (that's 222 million people) ages 12 and up are familiar with the term "podcasting"

41% of that same population (116 million) has listened to a podcast within the past month (up 9% from just two years earlier)

56% of the population aged 12-34, and 39% of the population aged 35-54, has listened to a podcast in the past month (that's 80% of the workforce)

28% (80 million) have listened to at least one podcast in the past week

Weekly podcast listeners average over 5 podcast shows per week
According to Podcast Insights®:
45% of monthly podcast listeners in the United States have household income over $75K per year

16 million people in the United States alone identify as "avid podcast fans"

Podcast listeners tune into an average of seven shows per week, with 80% of them listening to all or most of each episode

94% of podcast listeners are active on at least one social media channel (vs. 81% for the general population)

Podcast listeners are more likely to follow companies and brands on social media than the general population – in fact, 69% say that podcast ads made them aware of new products/services
In addition to the above, data cited by Improve Podcast shows that 60% of podcast listeners have a 4-year degree, postgraduate degree, or advanced degree.
In short: podcast listeners are loyal, affluent, and educated.
Do THESE sound like words that describe your ideal clients and customers?
630K
Active Podcasts Today
There are an estimated 19 MILLION episodes online today.
80M
Listen to Podcasts Weekly
These listeners tend to be loyal, affluent, and educated.
The In-Demand Expert Mastermind™ Premium Content Vault Brings Podcast Hosting and Podcast Guesting Together And Delivers You
Valuable Connections
Your network is your net worth, and it's important to associate and align with those who agree this is the key foundation of any successful business activity.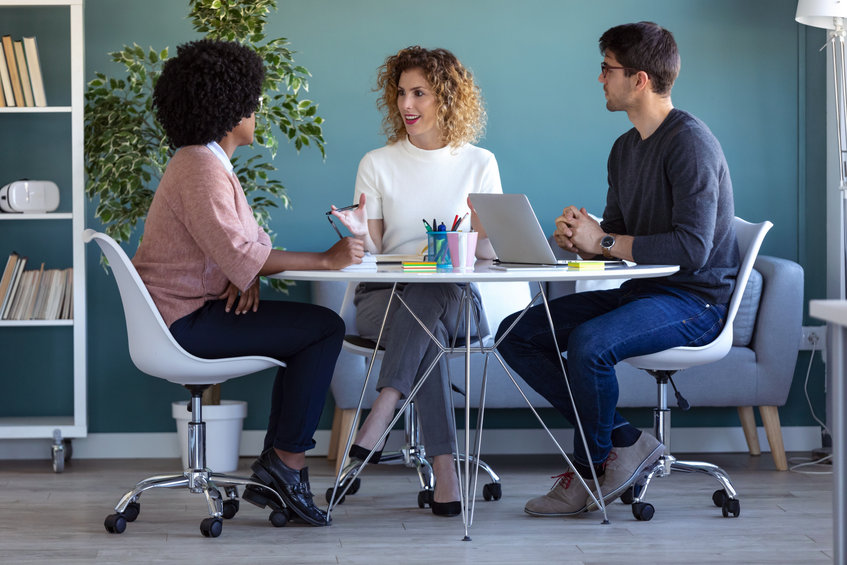 Knowledge Base
Gain access to a library of proprietary training programs, tools, and resources, worth tens of thousands of dollars, available 24/7/365.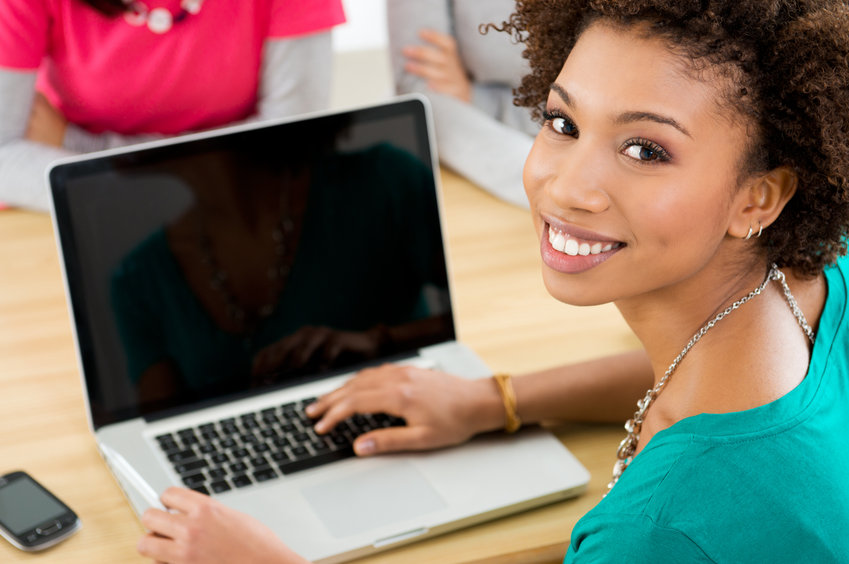 Sticktoitiveness
It's so easy to skip a week on your podcast or just give up when you're overwhelmed, confused, or discouraged. You may give yourself a pass; but you won't let somebody else down.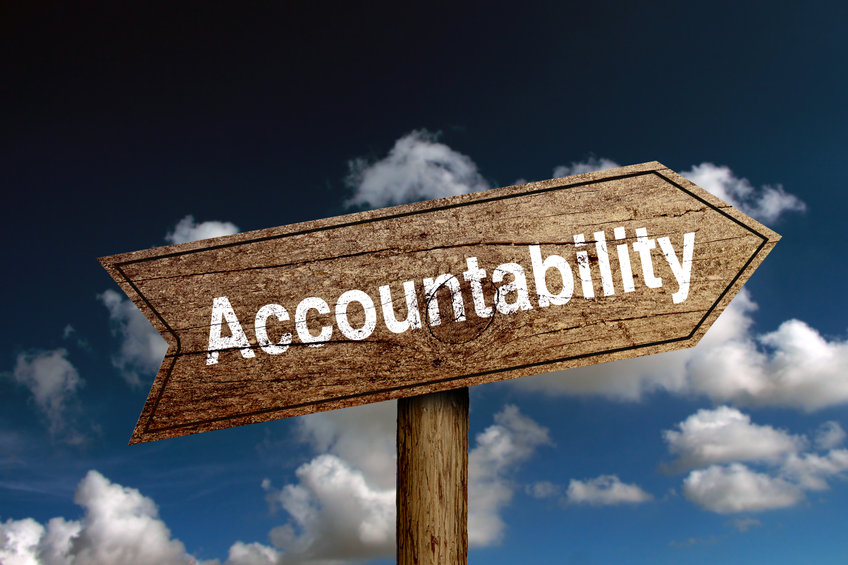 You Gain Immediate, 24/7 Access To Our Premium Content For Podcasters
As soon as you log in, you will discover one of the most comprehensive resource libraries for podcasters – and it will continue to grow as long as you stay with us!
It consists of several sections:
The Podcast R.E.A.C.H. Training Series for Branding and Launching Your Podcast
Whether you're just launching your show, or you already have a show and want to enhance it, our proprietary Podcast R.E.A.C.H. System is for you.
This comprehensive and cumulative system, honed and optimized over 10 years, includes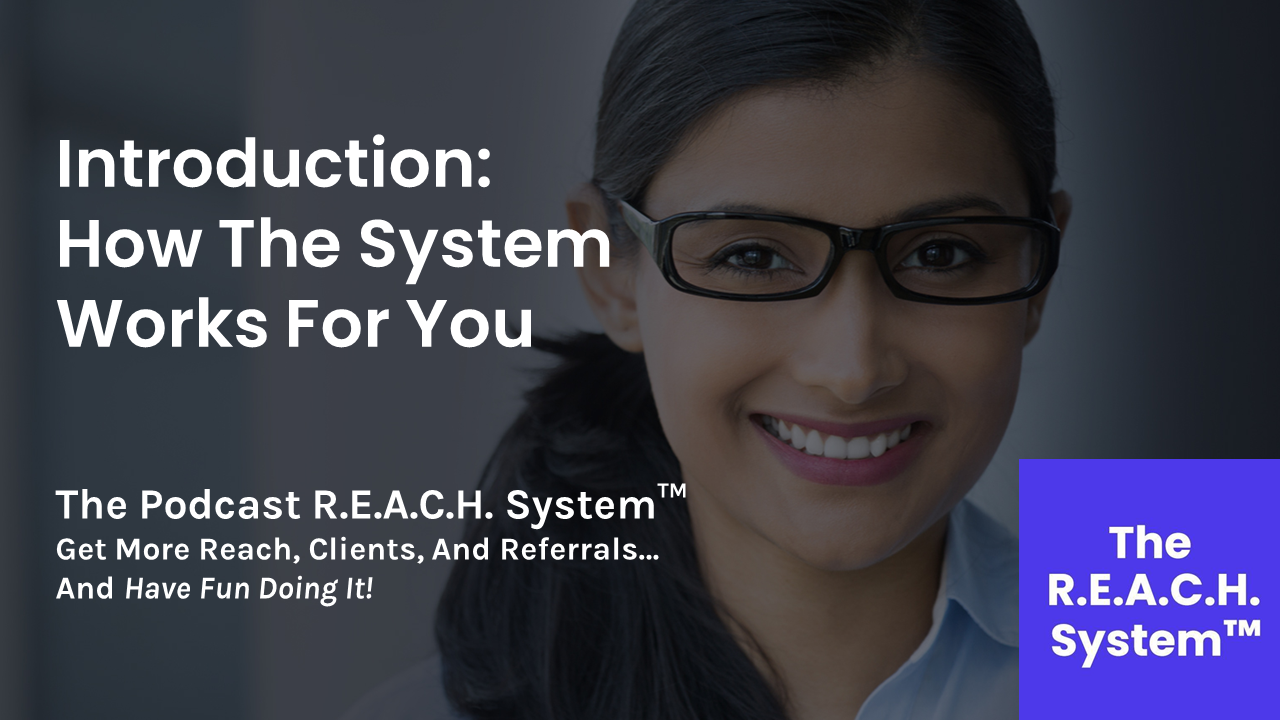 Introduction: How The System Works For You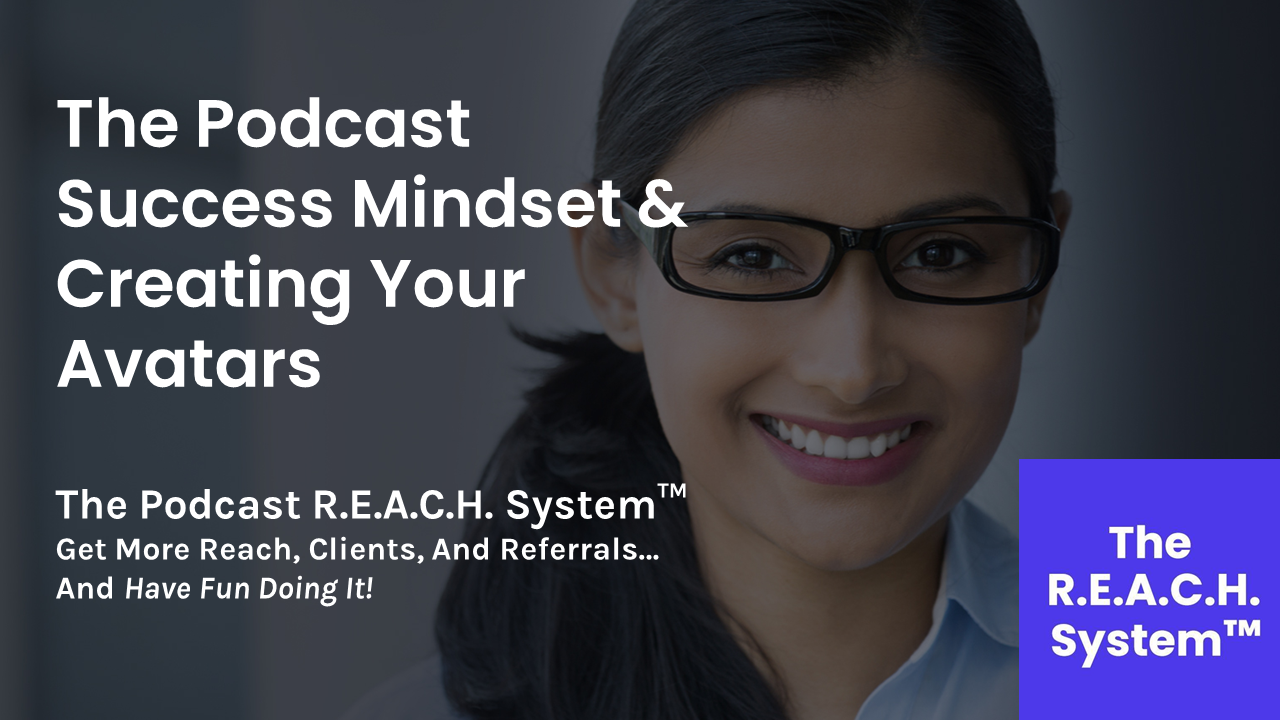 The Podcast Success Mindset & Creating Your Avatars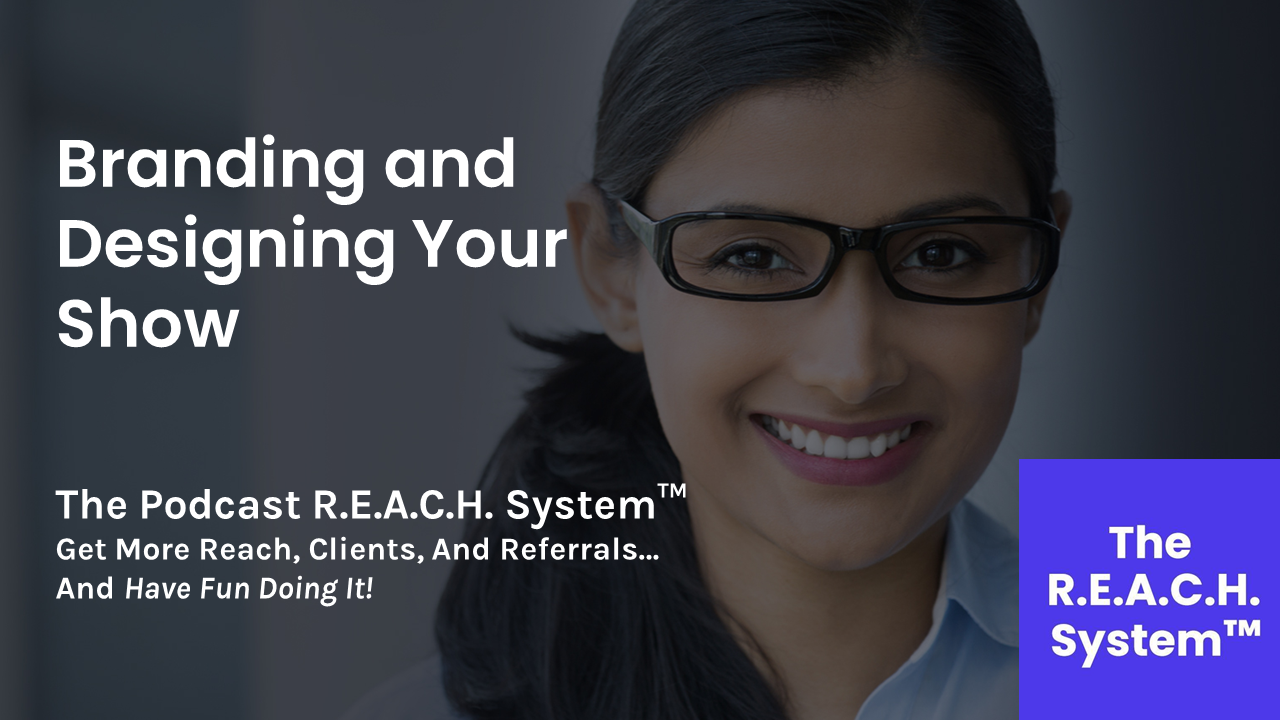 Branding and Designing Your Show (Including Intro/Outro and Commercials)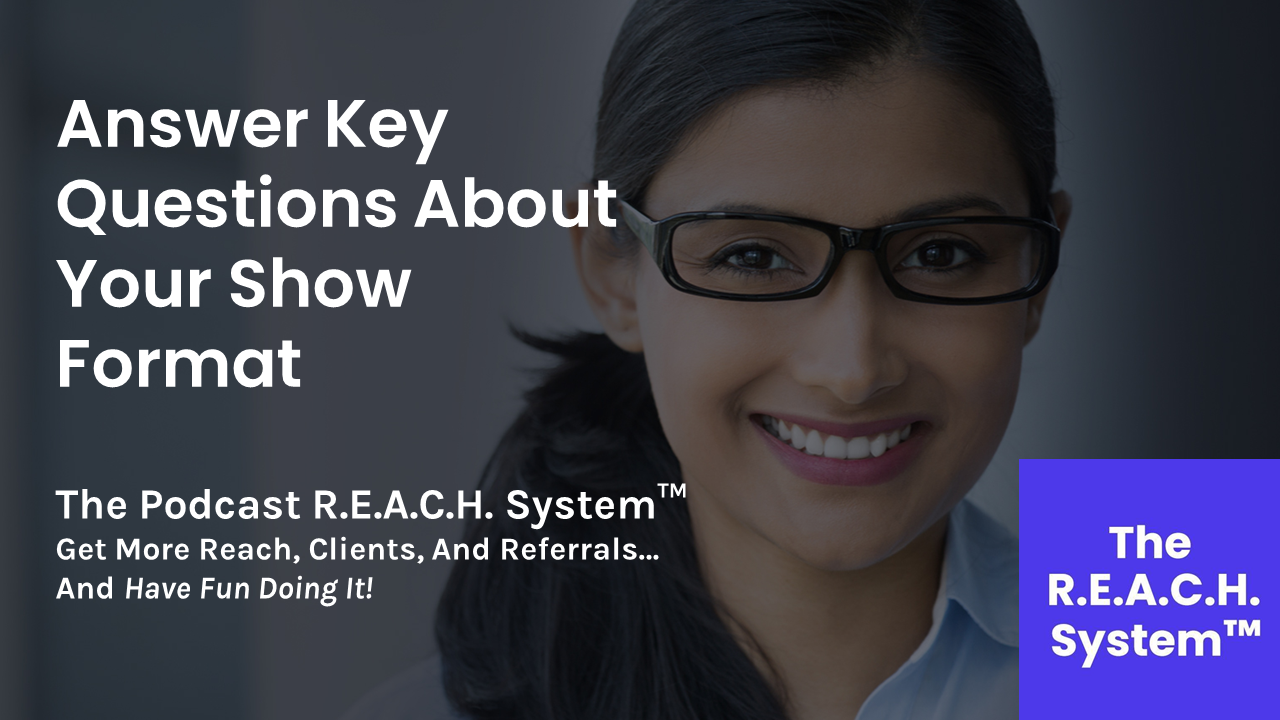 Answer Key Questions About Your Show Format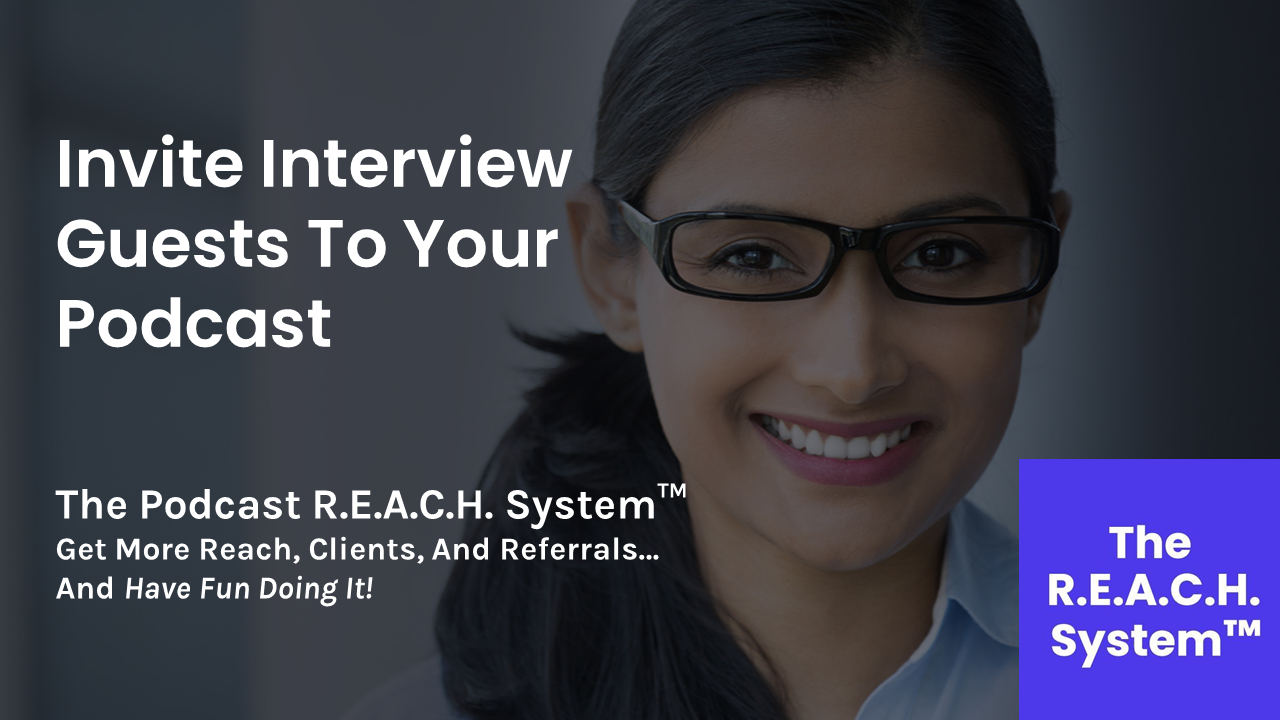 Invite Interview Guests To Your Podcast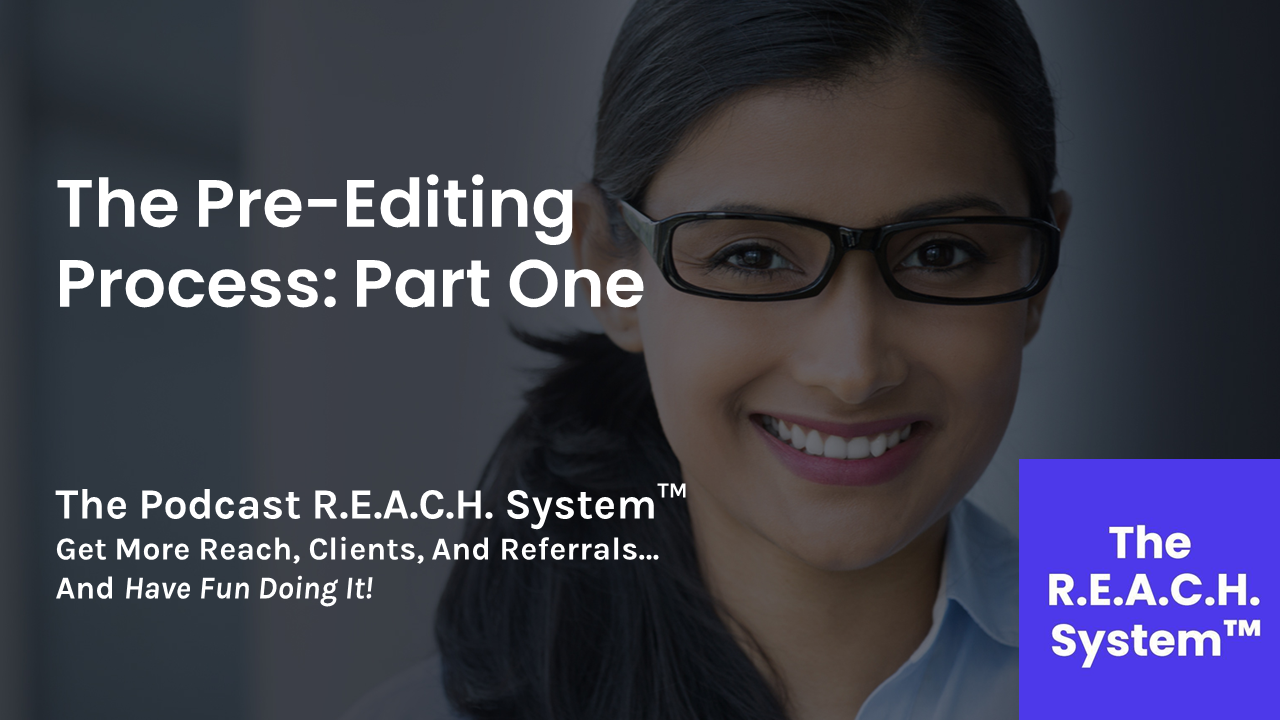 Show Flow, Mindset, Audio/Video Quality, and Getting Organized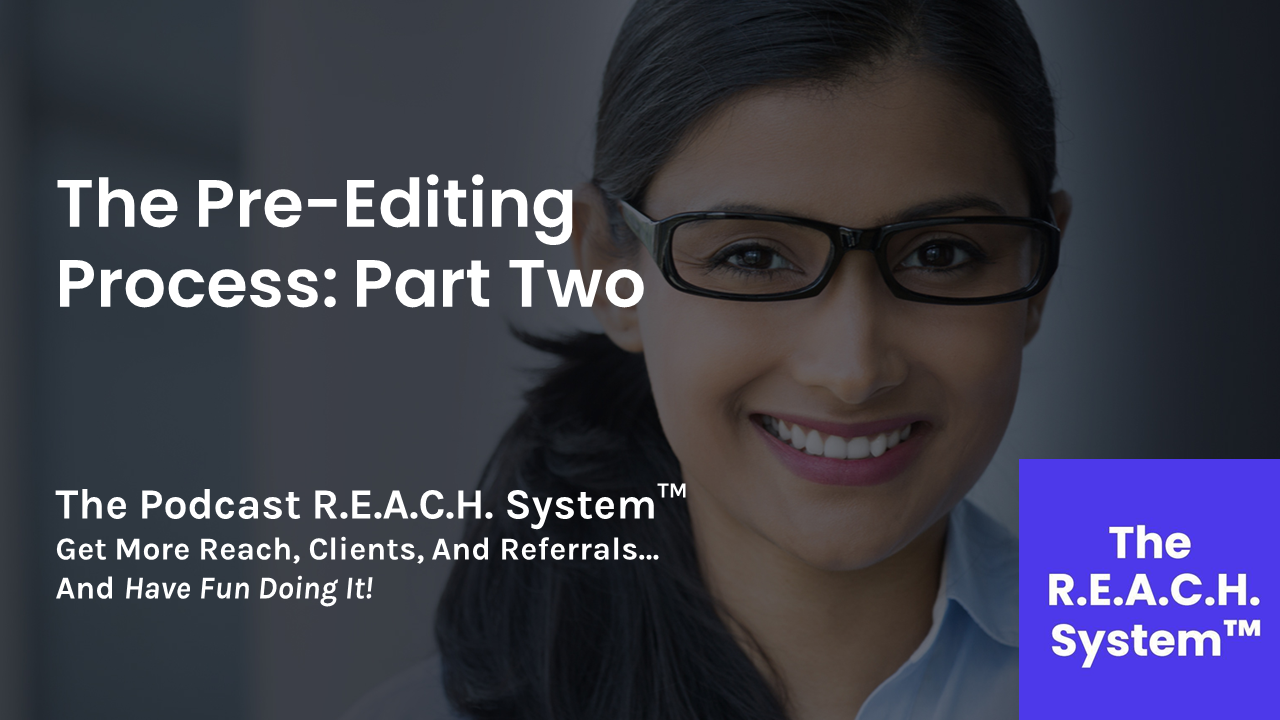 Seed-Based Marketing/Keywording, Curing Verbal Pauses, and Using Profanity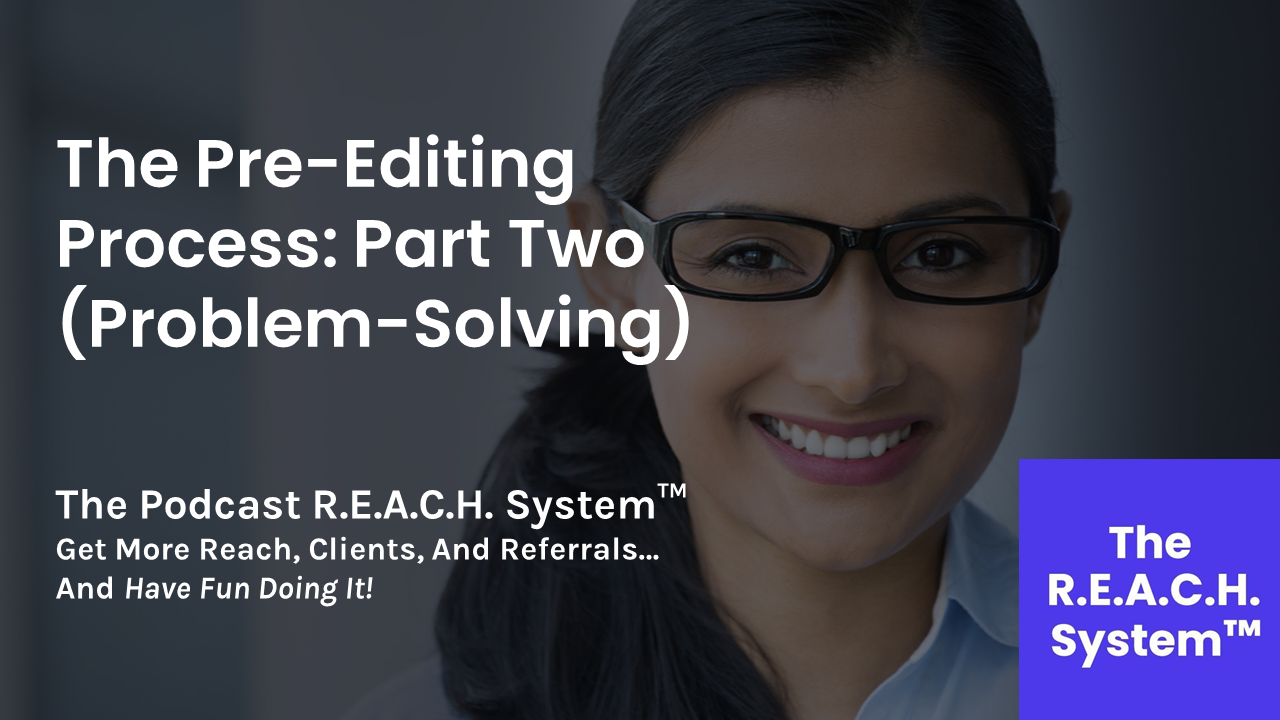 Problem-Solving on the Fly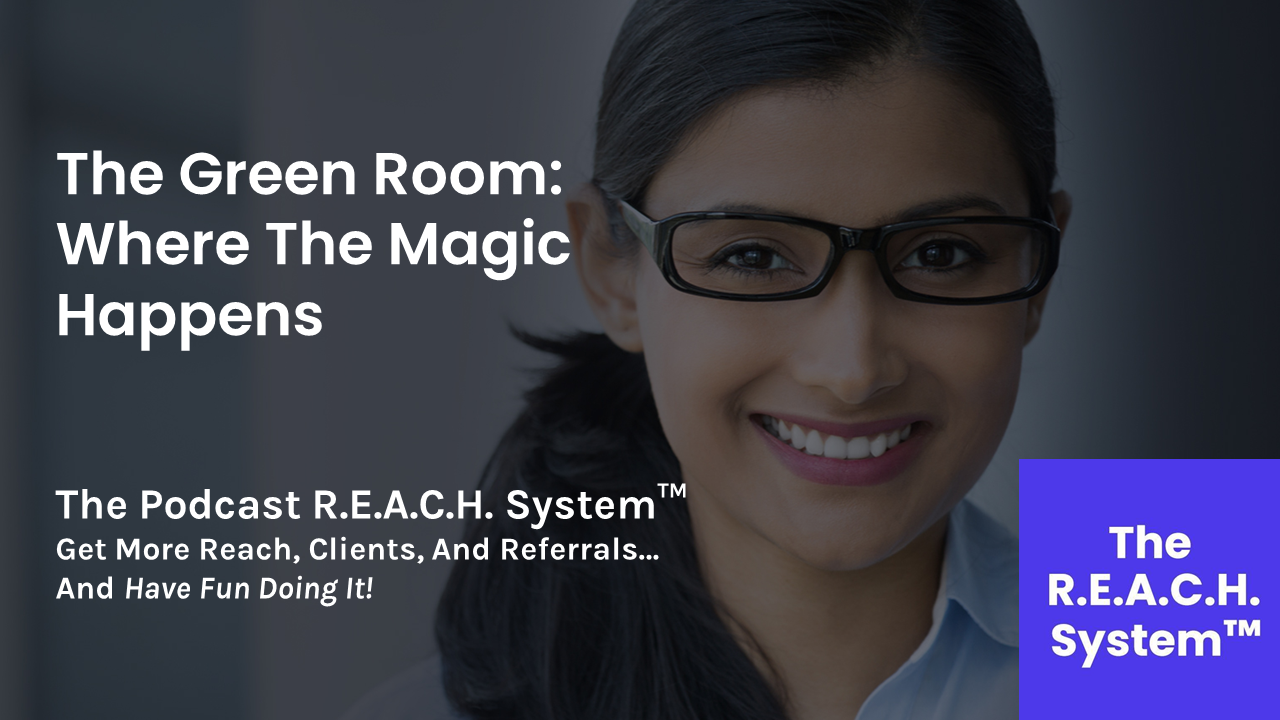 The Green-Room Conversation (Where The Magic Happens)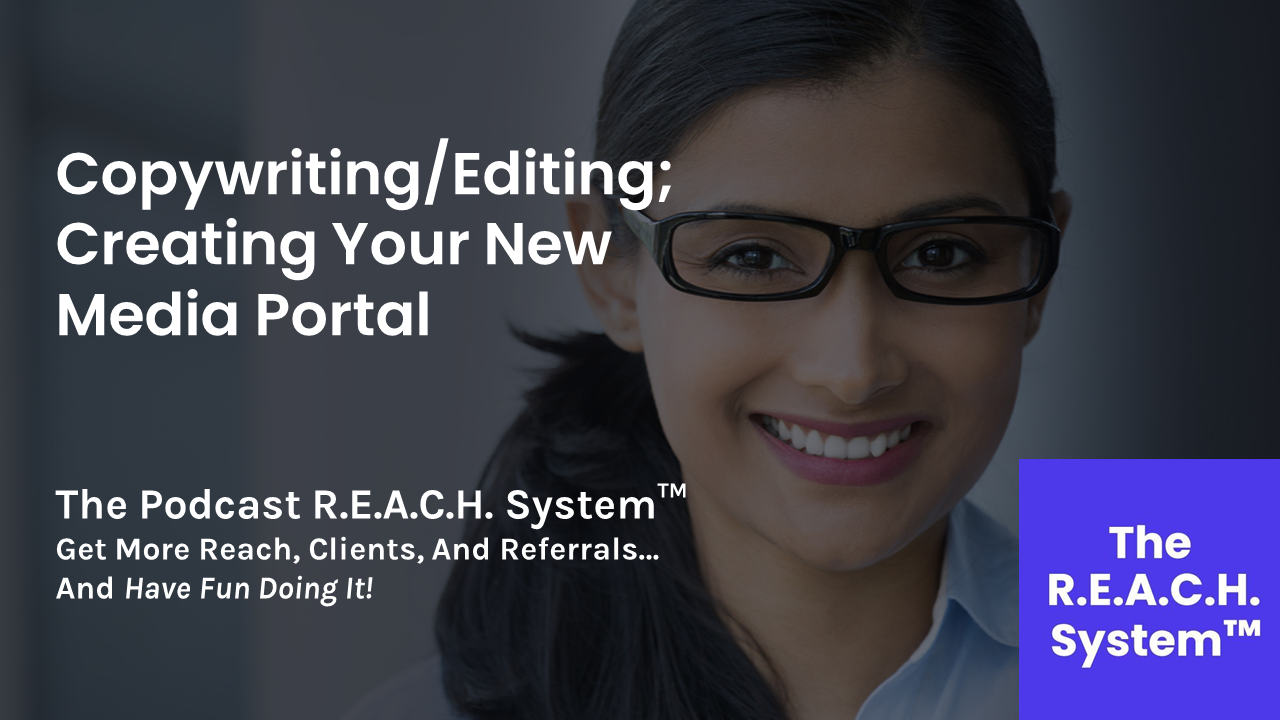 Copywriting/Editing; Creating Your New Media Portal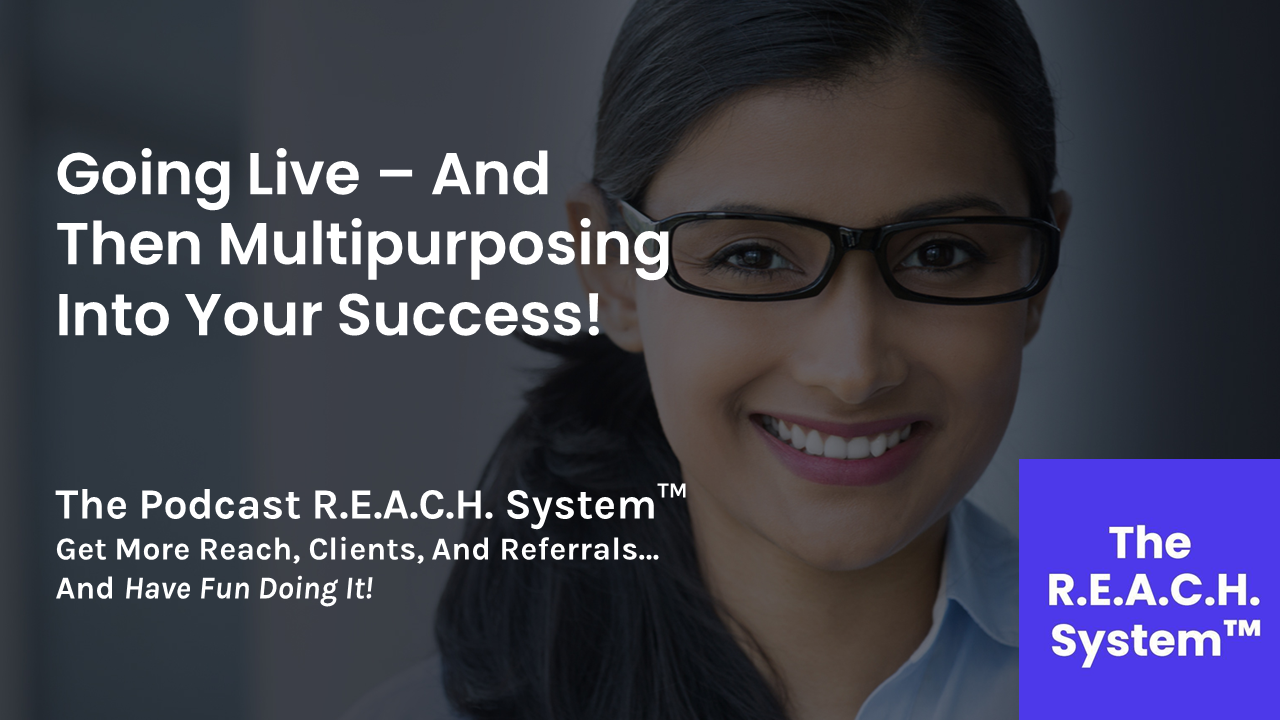 Going Live – And Then Multipurposing Into Your Success!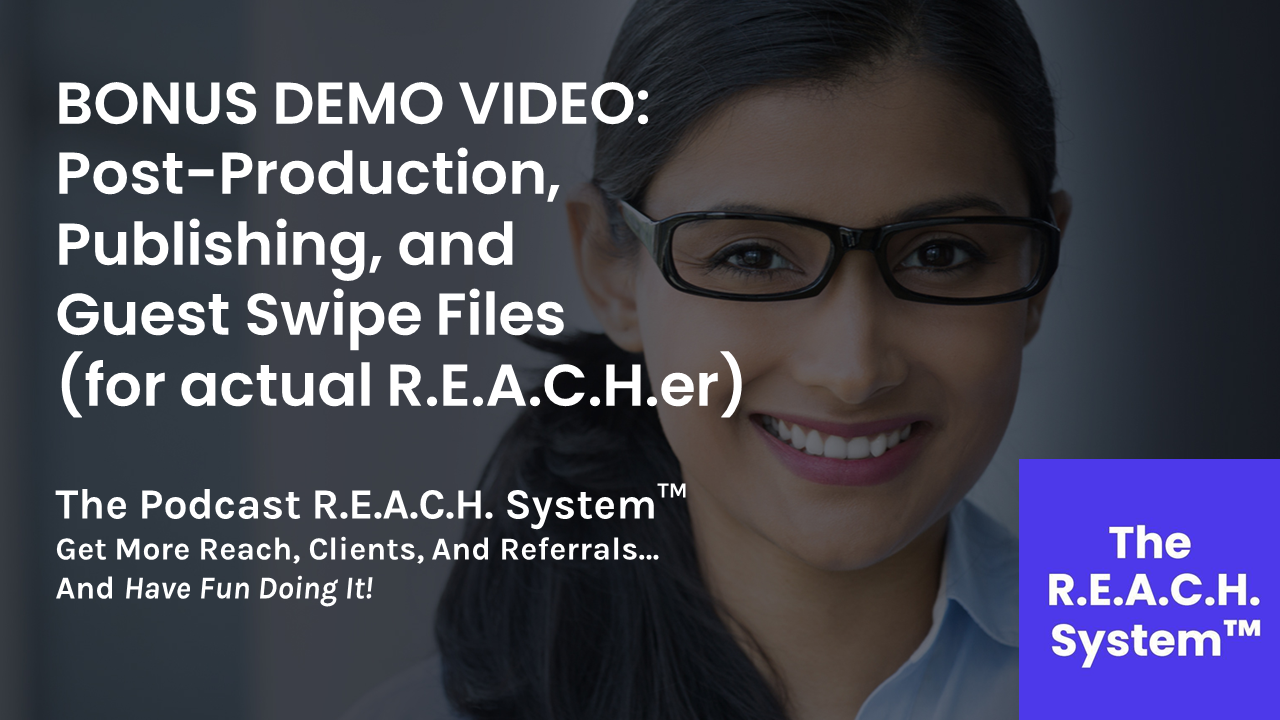 BONUS DEMO VIDEO: Post-Production, Publishing, and Guest Swipe Files (for actual R.E.A.C.H.er)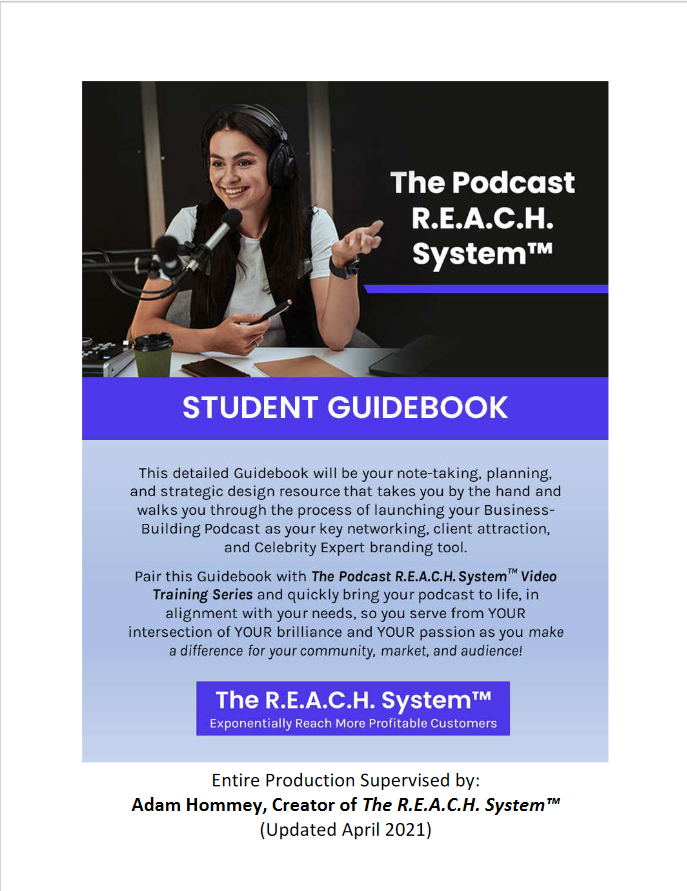 You also gain the companion Podcast R.E.A.C.H. Guidebook and Swipe File, which includes
The complete Avatar exercises – for yourself, your ideal listener, and your ideal guest

The 12 questions you'll combine with the Avatar data to create your attention-grabbing podcast title, tagline, and description

Fill-in-the-blanks scripts for your intro/outro bumpers and the commercials for your products and services

Word-for-word files you'll use to invite guests to your show and then prepare them for amazing interviews

Swipe files you'll share with your guests to promote their appearance on your show, and actually get them to do it
How To Design Your Studio and What Equipment to Buy
One of the top questions we receive from both podcast hosts and podcast guests has to do with what equipment you need – such as microphones, webcams, and more.
I got you a brilliant guest instructor (Ely Delaney) to walk you through it step-by-step, within a very reasonable budget – including how to build a studio you can take with you when you travel.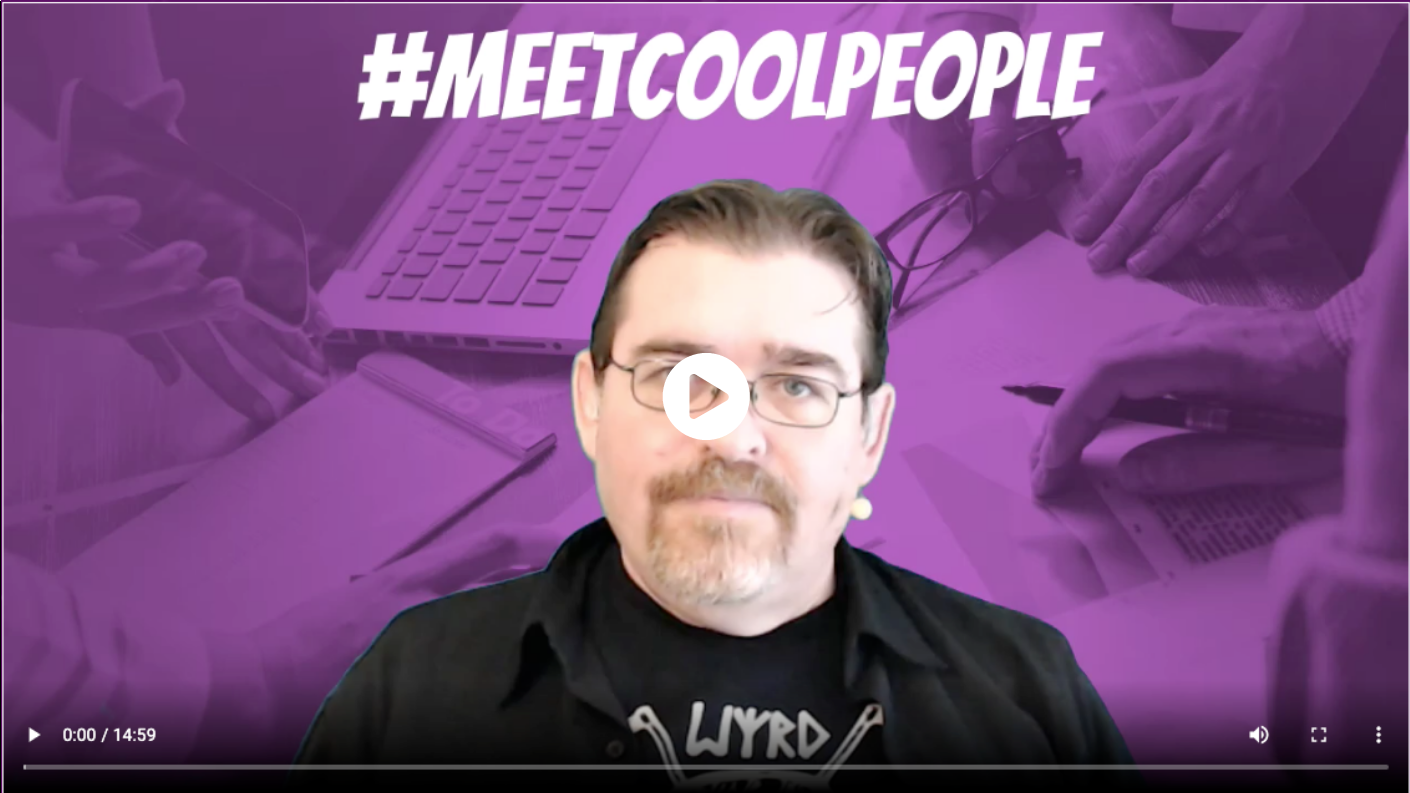 Get Great Audio and Video on a Budget – For Zoom, Podcasts, and More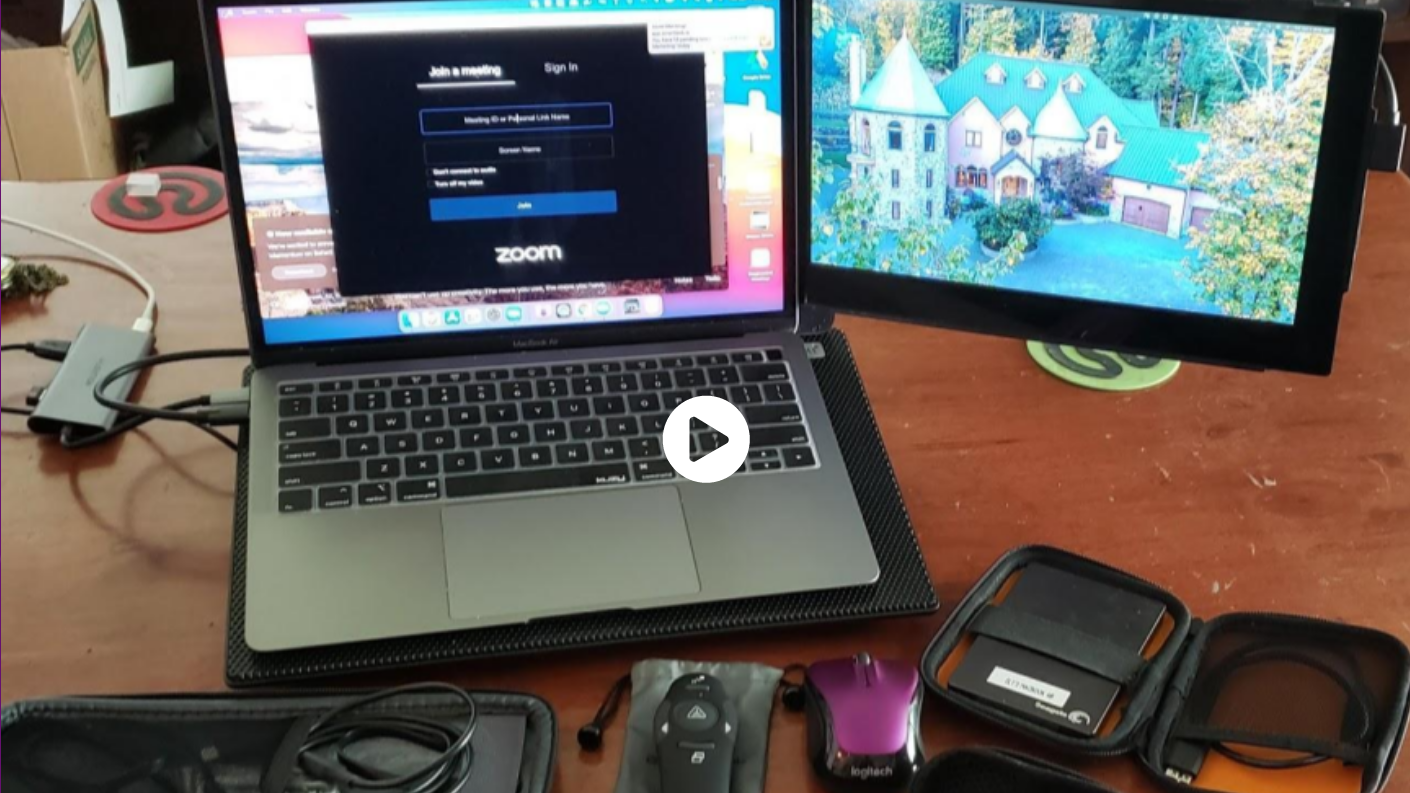 The Mobile Technology Stack for Podcasters on the Go
More Premium Content for Growing Your Podcast (and Business)
As you find yourself getting more excited about your increased success in not only podcasting itself, but other opportunities that arise, know that you'll be gaining at least two new resources in this section every month for as long as you stay with us.
When you join us today, you will receive instant access to: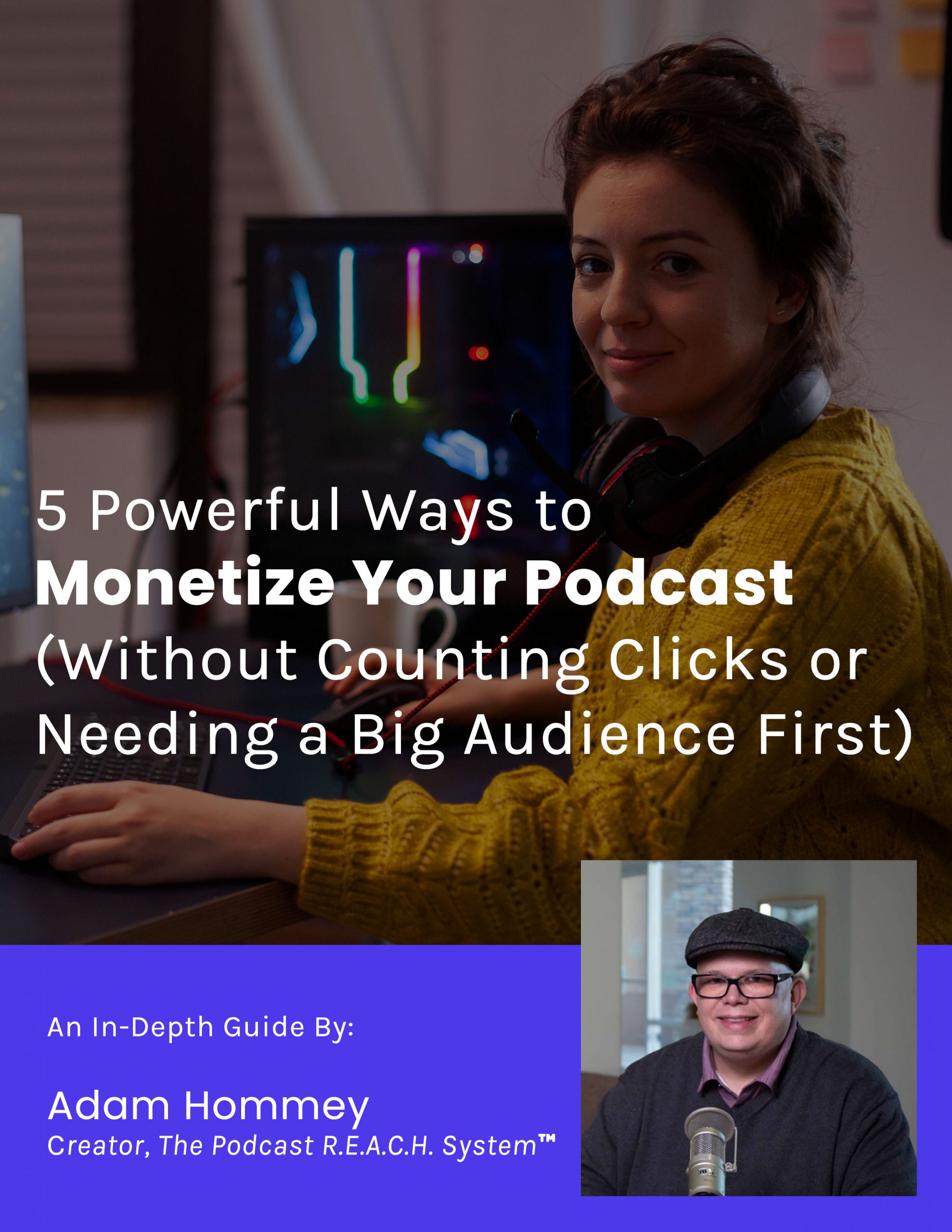 GUIDE: 5 Powerful Ways to Monetize Your Podcast (Without Counting Clicks or Needing a Big Audience First)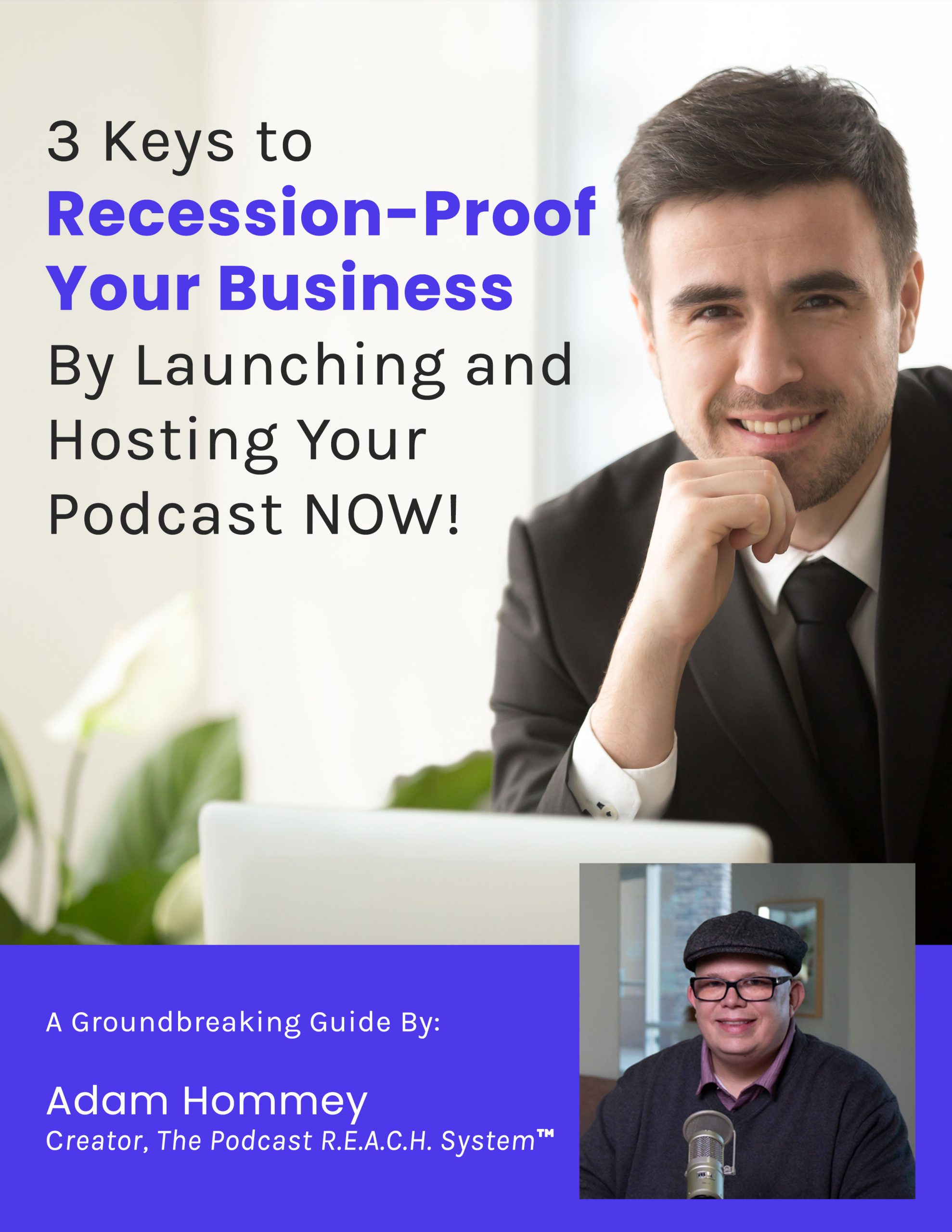 GUIDE: 3 Keys to Recession-Proof Your Business By Launching and Hosting Your Podcast NOW!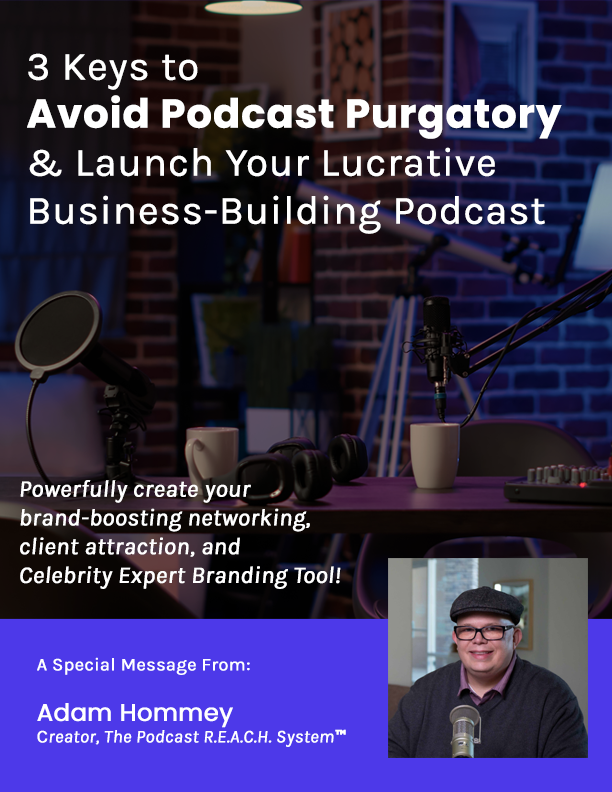 GUIDE: 3 Keys to Avoid Podcast Purgatory & Launch Your Lucrative Business-Building Podcast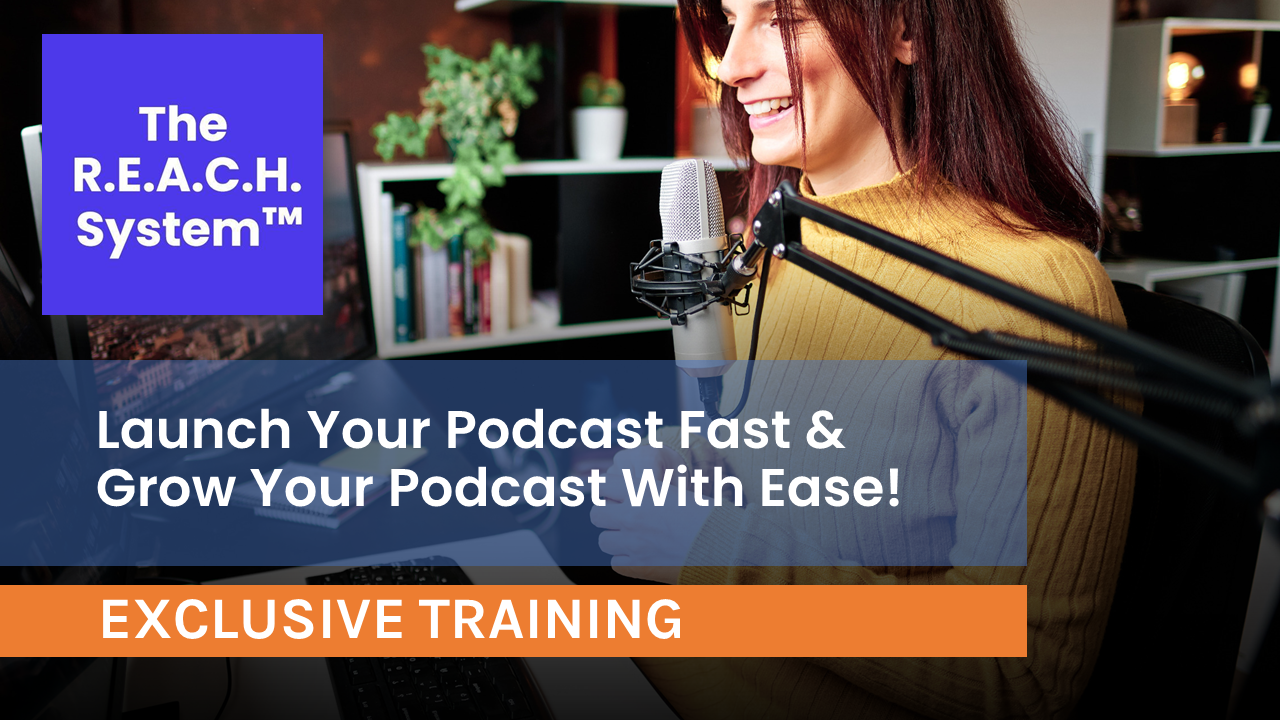 TRAINING: Launch Your Podcast Fast & Grow Your Podcast With Ease!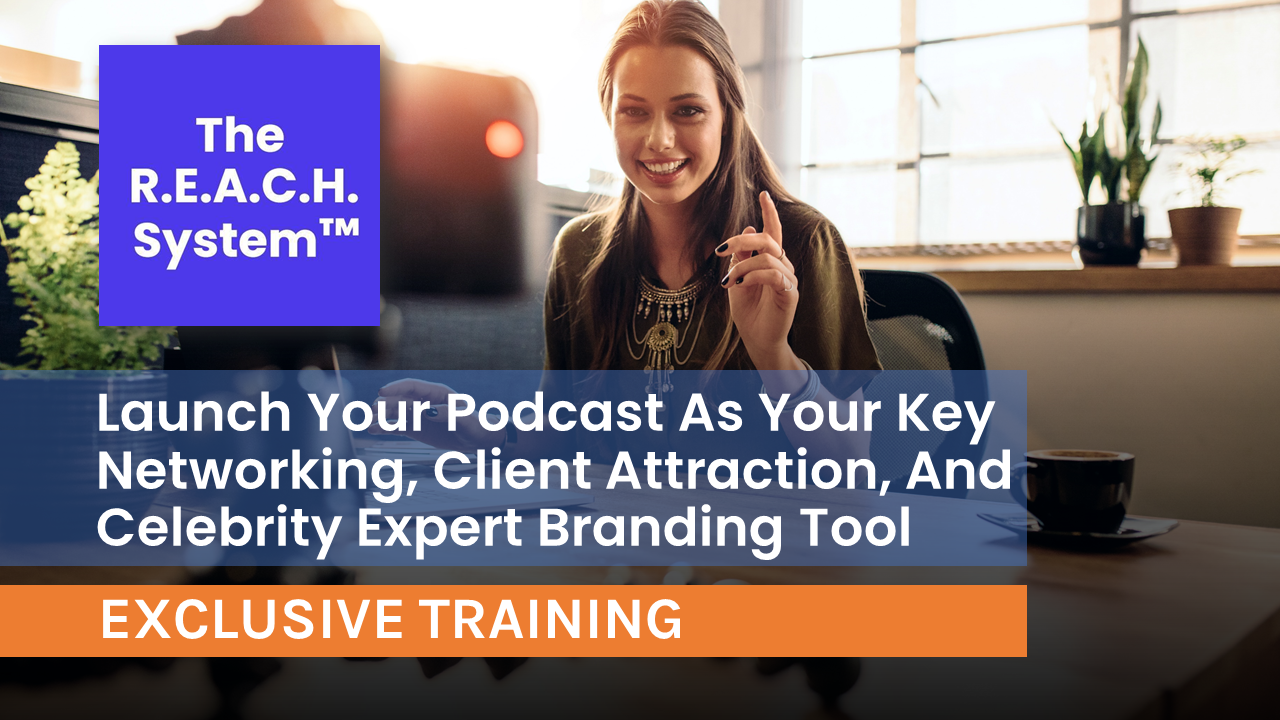 TRAINING: Launch Your Podcast As Your Key Networking, Client Attraction, And Celebrity Expert Branding Tool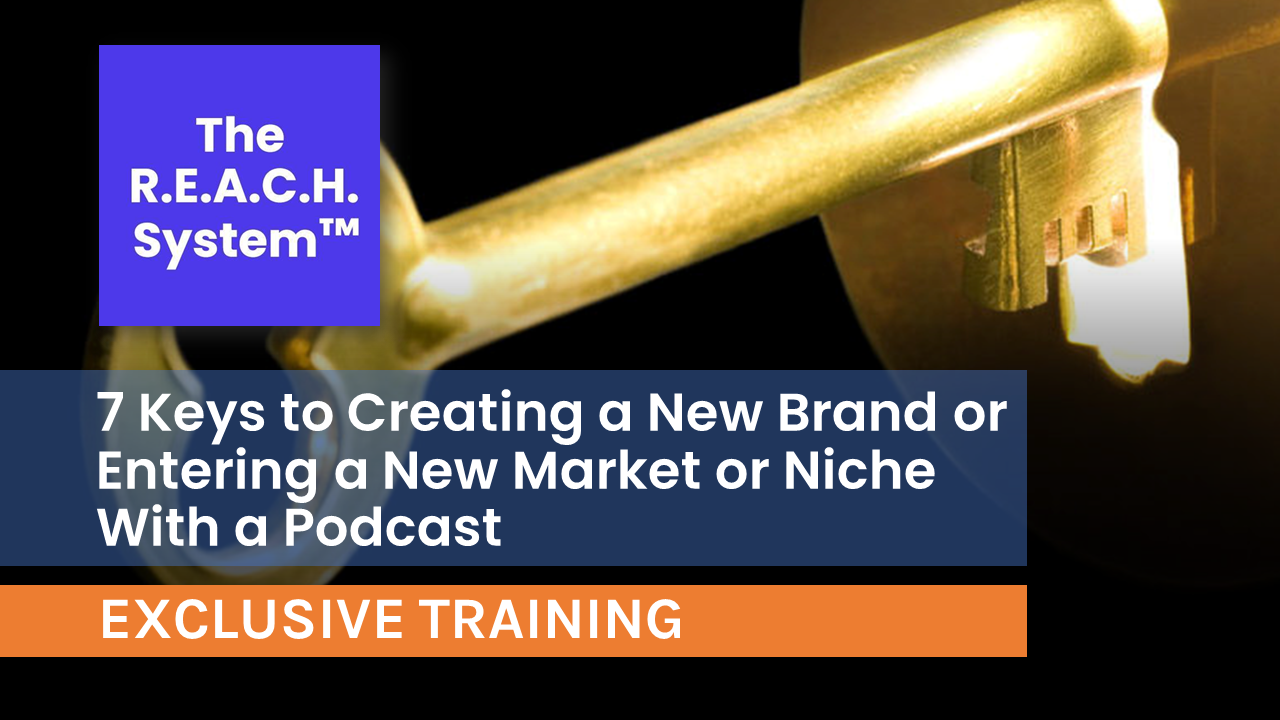 TRAINING: 7 Keys to Creating a New Brand or Entering a New Market or Niche With a Podcast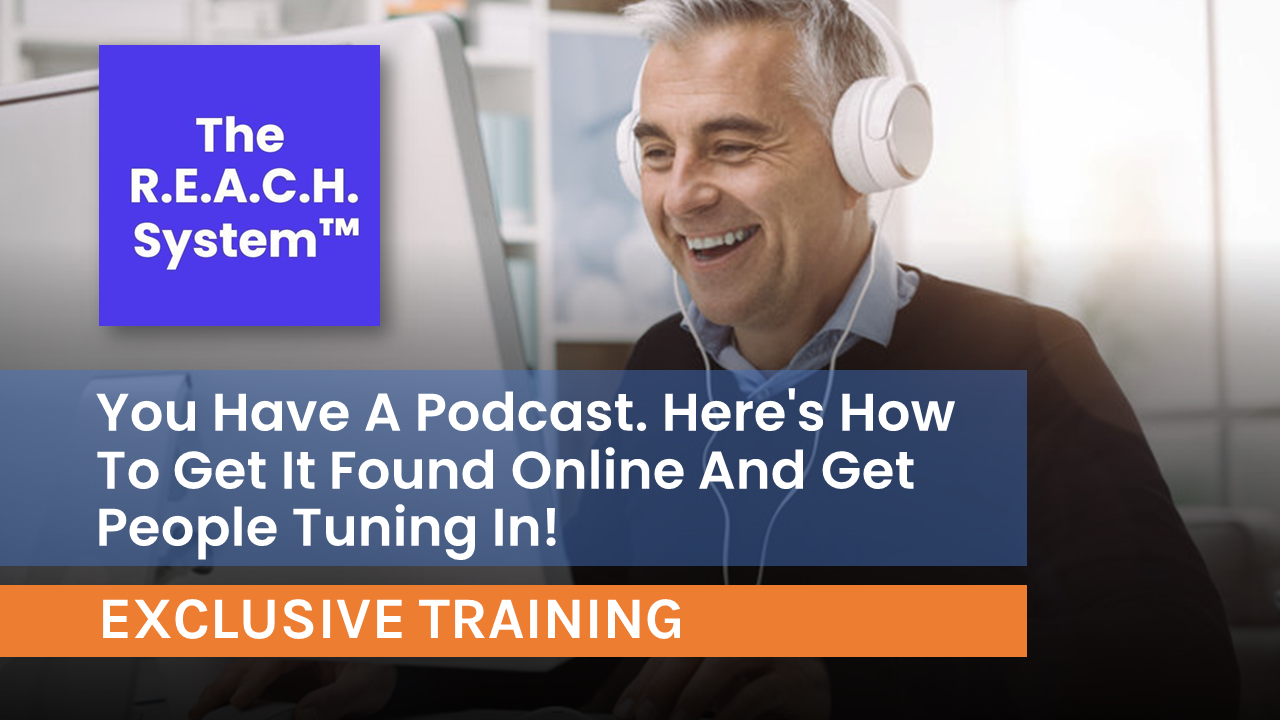 TRAINING: You Have A Podcast. Here's How To Get It Found Online And Get People Tuning In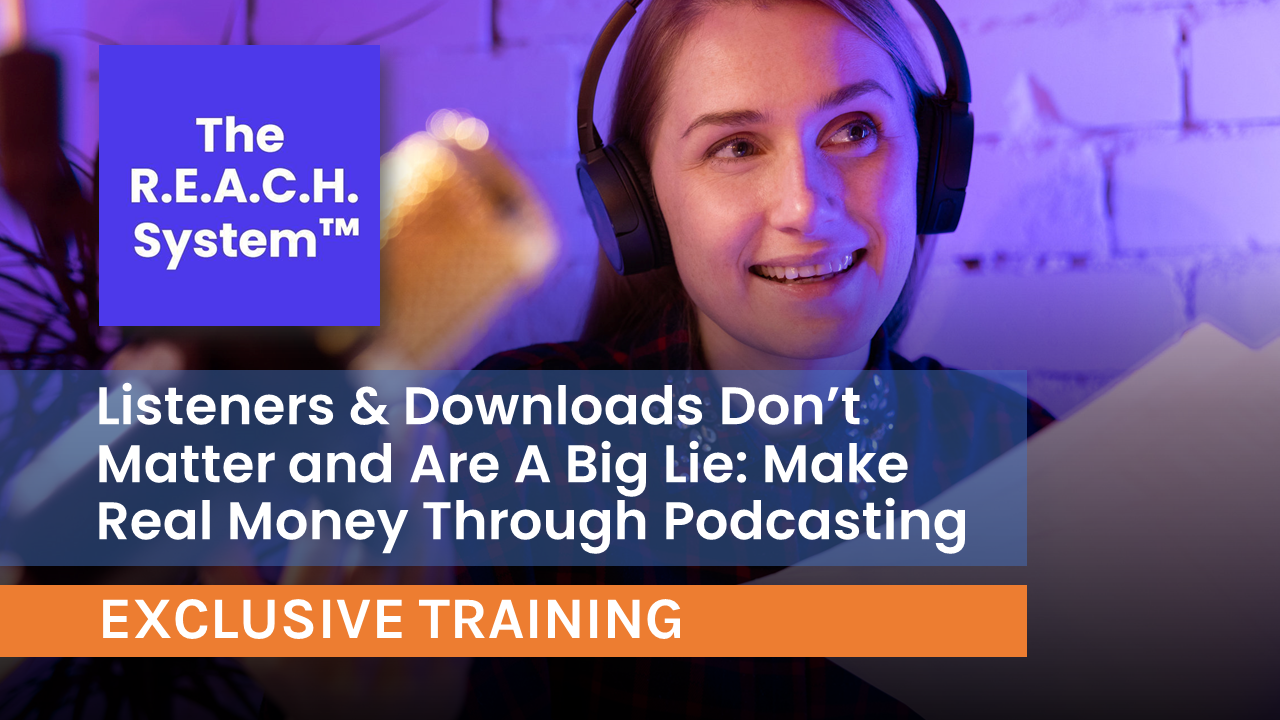 TRAINING: Listeners & Downloads Don't Matter and Are A Big Lie: How to Make Real Money Through Podcasting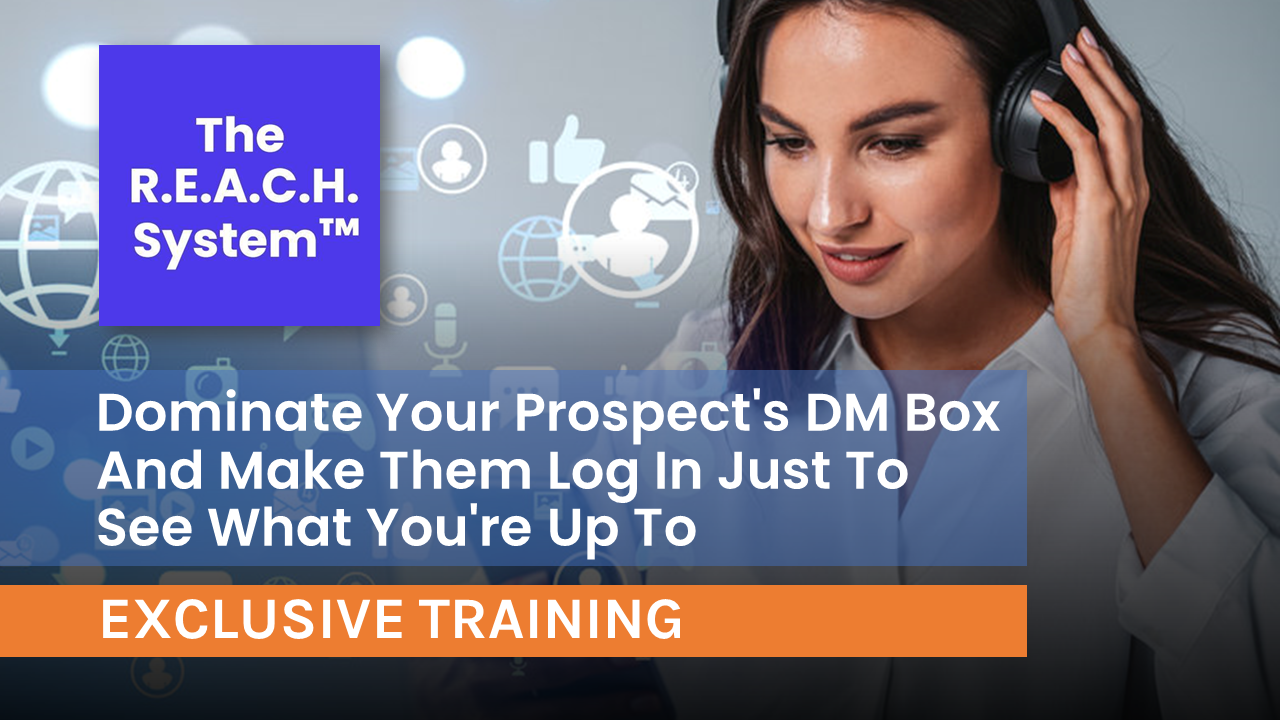 TRAINING: Dominate Your Prospect's DM Box and Make Them Log In Just To See What You're Up To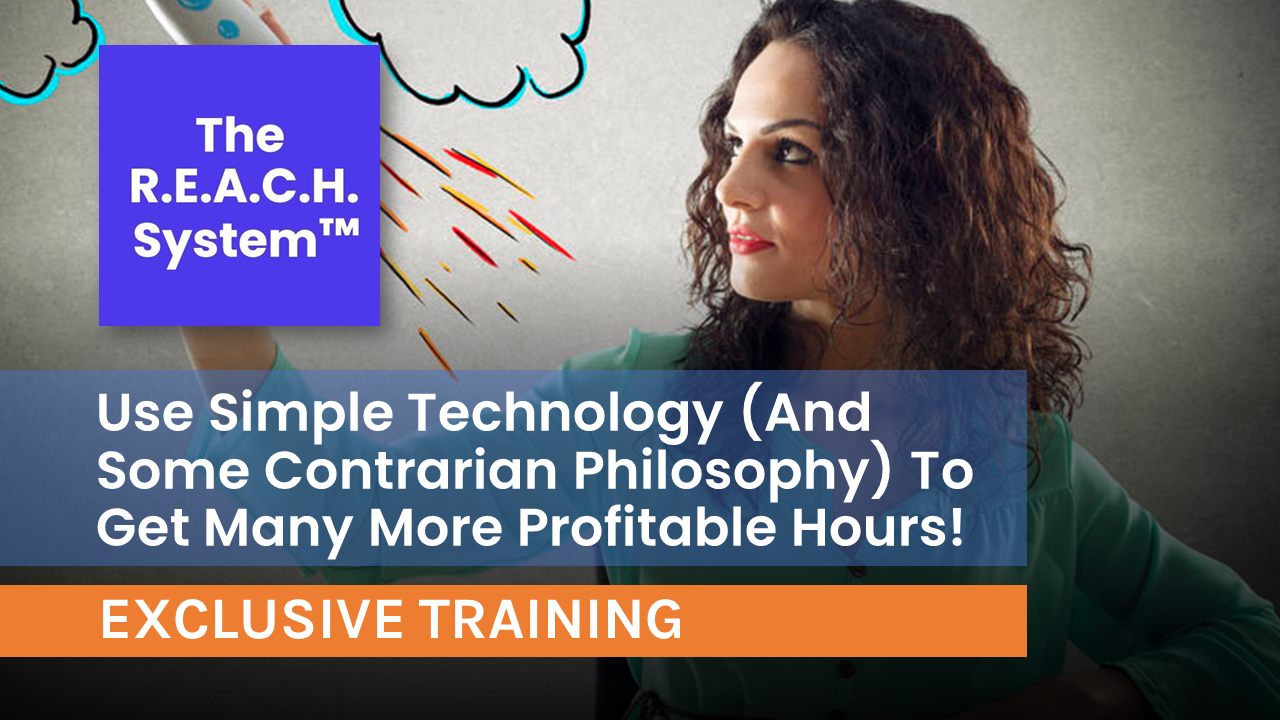 TRAINING: How I Use Simple Technology (And Some Contrarian Philosophy) To Get Many More Profitable Hours, Every Week!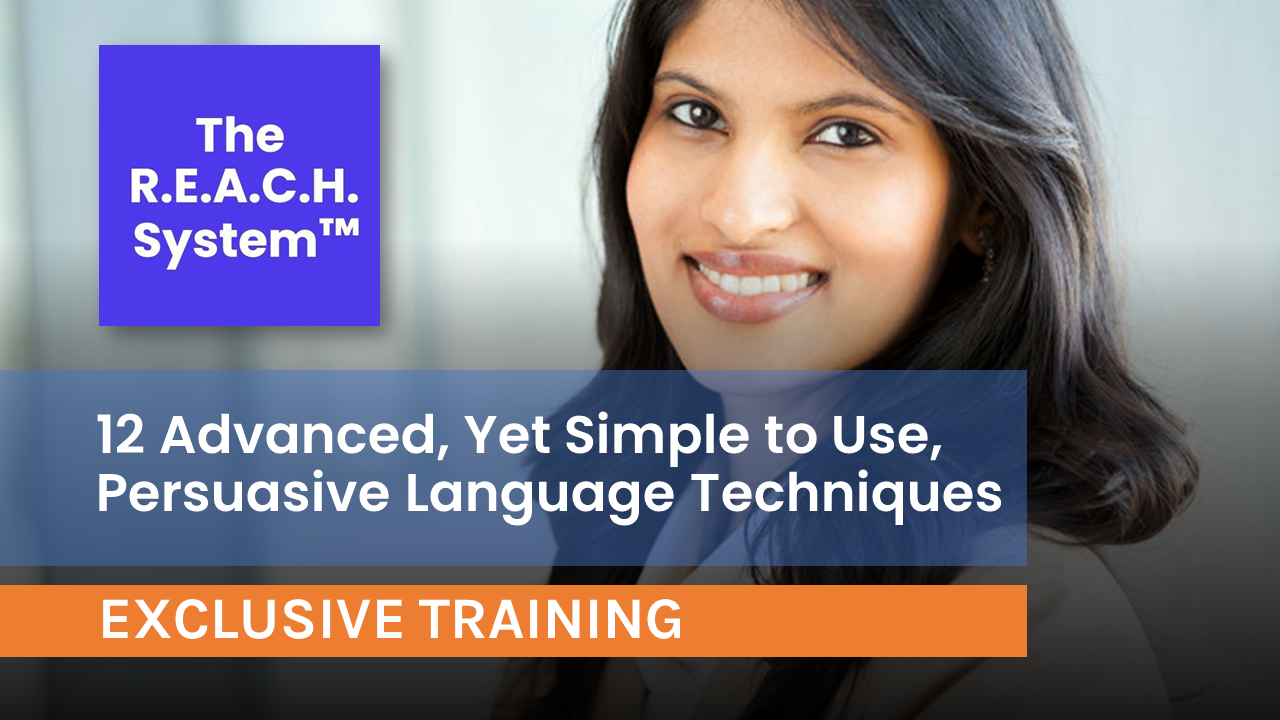 TRAINING: 12 Advanced, Yet Simple to Use, Persuasive Language Techniques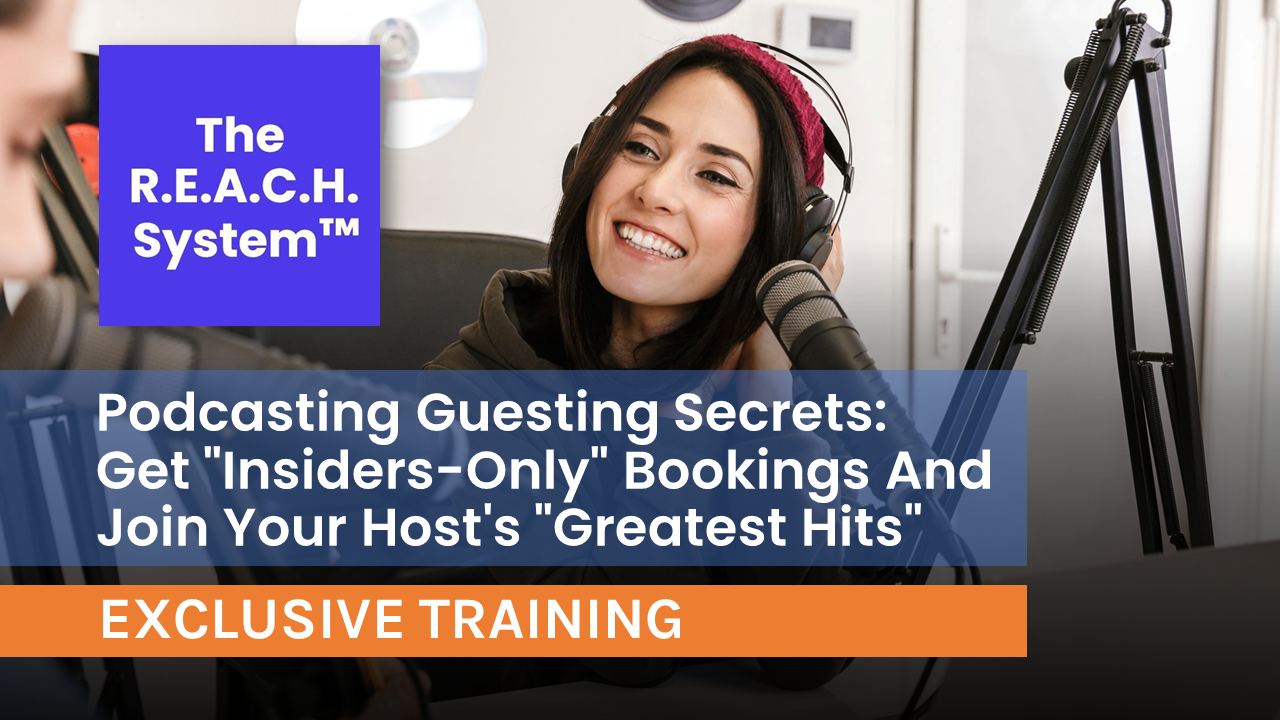 TRAINING: Podcasting Guesting Secrets: Get "Insiders-Only" Bookings And Join Your Host's "Greatest Hits"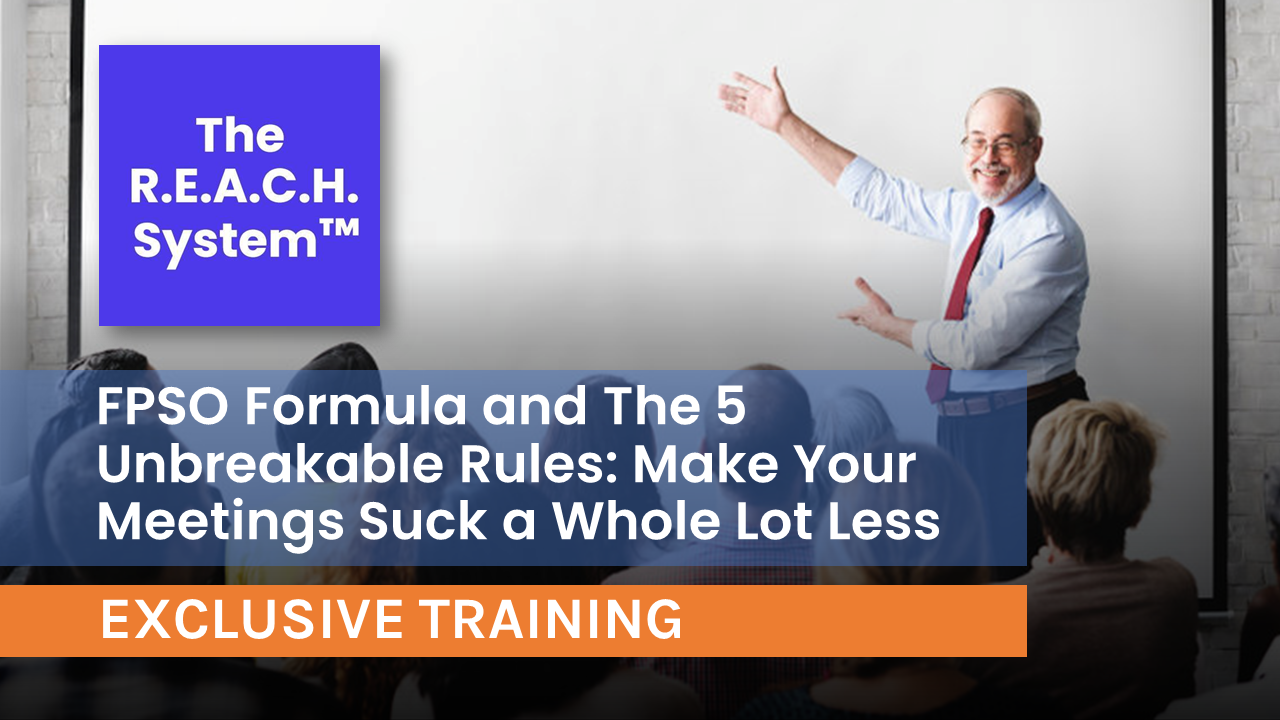 TRAINING: The FPSO Formula and The 5 Unbreakable Rules: How to Make Your Meetings Suck a Whole Lot Less
Get Started Now – Today Is The Day We Move Forward
Gain your roadmap that guides you to more networking opportunities, more clients, more Celebrity Expert Branding, and more profits through podcasting.
Join us right now to get our Premium Content.
Special "Pre-Pay Bonus" Opportunity for Charter Members Only
Step up to a full-year membership for just $1,164 and you also gain:
An exclusive audit of either your podcast setup & episode format, or your guesting publicity one-sheet & pitch (you choose which)

Three (3) BONUS 30-minute, 1:1 calls with me, where you develop a specific game plan and get individualized support seeing it through

Two (2) 10-minute, "911" calls with me for quick support on any challenge or opportunity that may arise as you go along your journey
One Final Question Before We Get Started Now
A former client of mine – a great guy – is a financial advisor, one of the leading advisors in his company for many years running.
His dad was a salesman too.
My client told me about how he would go along with his dad on sales calls, and the prospect would sometimes hesitate to sign on the line that is dotted.
One of their top objections was – and this is the question you may have right now – "this doesn't sound so hard, I can do it myself."
My client's dad would say,
"I agree, this is pretty easy for some people, and there's a chance you could do it yourself if you took the time to research and figure it out on your own through maybe a bit of trial and error.
Just one question, if I may:
"How much 'doing it yourself' have you accomplished, up until now?" 
Think about it.
And then make your decision to make this the last day you struggle in your journey to experience the joy, fun, and profits that come with podcasting.
Choose Your Investment Option Now